[s3mm type="video" s3bucket="coyotelearner" s3region="eu-central-1" files="EDISON EDUCATION HD.mp4" splash="https://staging.coyotelearner.co/wp-content/uploads/2019/01/LEGO-robotics-Edison.jpg" /]
What Edison can do
It's not just a remote-controlled robot.
Edison can:
React to light and sounds.
Follow lines and avoid obstacles.
Read programs from barcodes
Communicate with other Edison robots!
And so much more…
features
Thanks to its built-in sensors, lights, sounds and capabilities, Edison makes high-quality educational robotic training possible.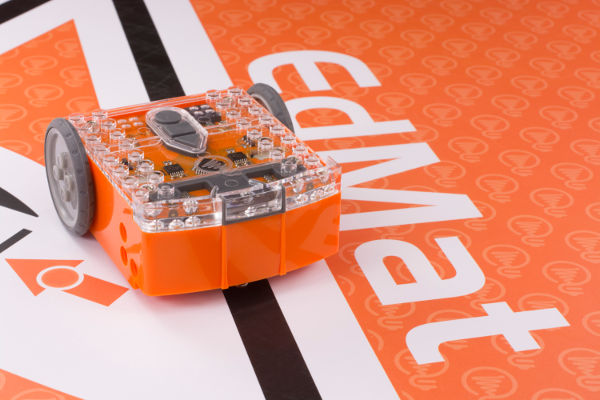 Connect to the computer
Edison programming is easy and is achieved by using the EdComm cable that connects to your computer via the headphone jack. No extra software required!
Edcreate
Edcreate is a package specially made for Edison Robot that contains building blocks (blocks, sprockets, tapes, accessories) that you can combine with your own LEGO bricks to create unique constructions and bigger robots!
Constructions with Edison Robot
EdCreate Kit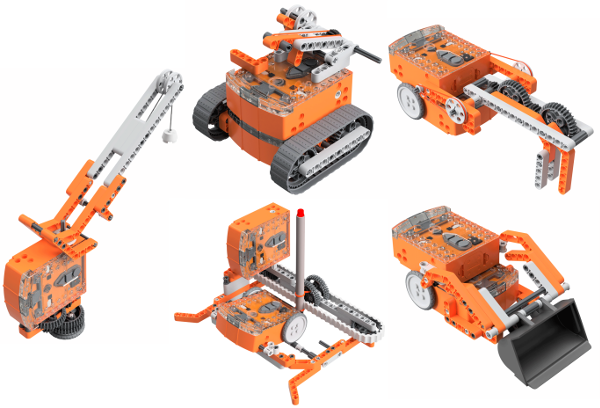 Barcodes
Edison Robot can read programs that are within barcodes. This feature of the robot helps especially younger students to program the robot!
EdBlocks
Icon based programming language. Ideal for students from 8 years old.
EdScratch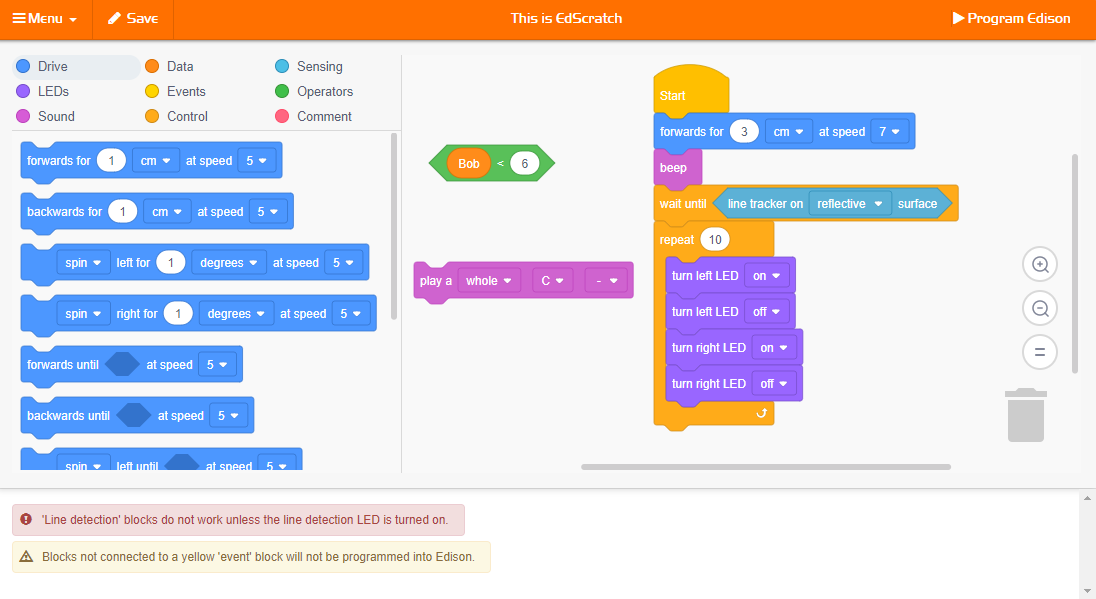 Programming language based on M.I.T Scratch. Ideal for children over 10 years of age.
EdPy
Python-based programming language. For students and adults  from the age of 11 years old.
Obstacle detection: Infrared using 2 IR LEDs (front left and right) and IR receiver module (doubles as IR receiver)
Remote control: IR receiver module (38kHz) Edison can learn IR codes from most standard TV/DVD remote controls
Infrared data comms: IR receiver module (double as obstacle detection sensor and IR remote receiver)
Line tracking: Red LED and phototransistor (doubles as barcode reader and programming port)
Light sensors: 2 phototransistors (front left and right)
Sound sensor: Piezo transducer (doubles as sounder)
3 Button Control: Edison uses 3 buttons in order to complete its tasks. Run, Stop, Program.
Outputs
Drive: Differential drive system
Infrared data comms: 2 infrared LEDs (double as obstacle detection sensor)
Sound: Piezo buzzer (doubles as sound sensor)
Lights: 2 red LEDs (Front left and right)
Processor
Freescale 8-bit MC9S08PA8VLC
Power
Battery: 4 x AAA (Alkaline or NiMH rechargeable AAA batteries are recommended)
Frequently Asked Questions
Why is the Edison Robot so economical?
The vision of the creators of the particular project (Edison robot) is to create an educational robot that everyone can afford. Edison robot is in its 2nd edition. This information is very important as the robot has been tested a lot. It has overcome his childhood illnesses and the initial problems that usually have all the machinery that seeks to surpass what you can expect from them. Of course there is no question about its quality. Have you watched the video where a car runs over an Edison and it still works?
Is there a warranty?
Edison has a warranty of 12 months from its purchase.
If a robot does not work as it should, what should we do?
Contact us immediately. In turn, we will contact Microbric in Australia and we will find a solution very quickly. In our communications so far with the support of this particular company its response was immediate and in the best possible way!
Are there any disadvantages in Edison Robot?
It is an amazing educational robot. One issue that some might think of as a drawback is that its connection to the computer is not wireless but wired with a cable. If you want a robot with a wireless connection to your computer, then DO NOT buy this particular robot. (You need the edcomm cable just to TRANSFER the code from the computer to Edison Robot)
Unpacking
[s3mm type="video" s3bucket="coyotelearner" s3region="eu-central-1" files="unboxing EN.mp4" splash="https://staging.coyotelearner.co/wp-content/uploads/2019/01/unpacking-edison.jpg" /]
Connecting to the computer win10
[s3mm type="video" s3bucket="coyotelearner" s3region="eu-central-1" files="Connecting to computer.mp4" splash="https://staging.coyotelearner.co/wp-content/uploads/2019/01/EdComm-robot-programming-cable.jpg" /]